BRYN MAWR AND OCEAN RESORTS first published January 2009
After traveling across the country four times, we decided to try Florida. Our first encounter with Bryn Mawr was in St. Augustine at a campground that was right on the ocean. It was a sandy place, but beautiful. St. Augustine is very interesting and has a great history.
Upon leaving Florida's oldest city, we headed for the west coast, south to the Keys and on to another Bryn Mawr campground in Key Largo. The area was more into boating and diving and there were many campsites. We decided to travel north along the coast.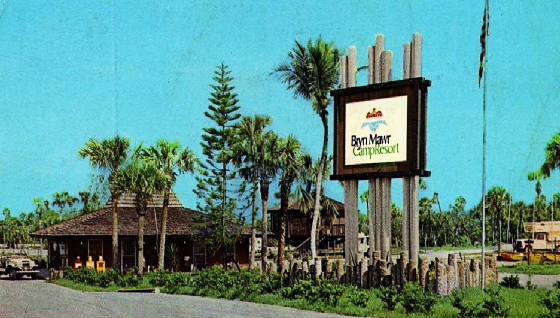 Lo and behold, on the way north we saw a sign for another Bryn Mawr campground and decided to try it. That was our first encounter with what we know today as Ocean Resorts. That was in 1971, and after camping here we knew this was it.
Soon after, we met Mr. and Mrs. Clinton Kinney and their cute, little baby.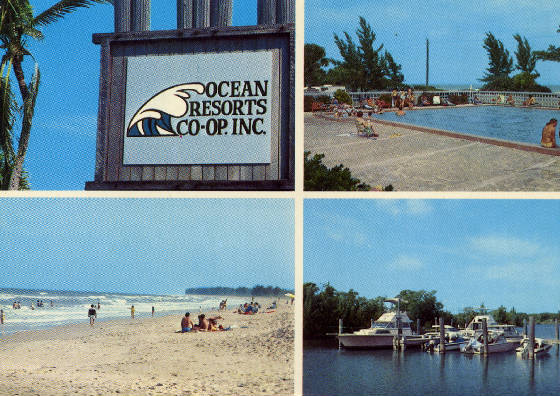 At that time we had our same pool, tennis court and marina. We also had a nice little store with supplies and yes, a liquor license.
The pool had Olympic diving boards and we would dive for beer cans-yes, with beer in them. Imagine doing that now! That would probably generate twenty board meetings!
We had canoes down at the marina and a guy named 'joe" who led about five canoes to one of our islands, made us cocoa and served cookies.
The tennis court was getting a little raggedy so that was replaced. The hall was very nice with pool tables, a fireplace and various game machines.
All of the campsites were beautiful and those before the marina were vacant. It was a place for tent campers and during motorcycle races, many bikers stayed awhile before continuing on to Daytona.
There were no condos at that time-none on the island and the campground was loaded with "game." You would be sitting by your campsite and raccoons, turkeys and bobcats would pass by. With the use of a dirt bike, I could travel toward the Moorings, but not go all of the way.
The Red Tail Hawk, the restaurant across the street, was later named PV Martins. It was really beautiful. In the center of its roof on the inside, was a huge
fish tank. If you took the stairway and walked up, there was seating for about twelve people. There was an open bar so that you could go there from the beach in bathing suits and have a drink at the raw bar. At night, you could go there to dance and hang around the bar or sit at a table with a group of friends. It was great because you could drink alcohol, walk home and not worry about a DUI. It was always crowded at night and was quite a business. It was taken down in the mid nineties.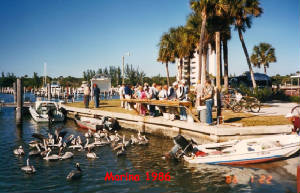 During that time period, the Marina Committee was formed and some of the original owners are still here. Ray Smith, Herb Huth, Bert Weed, Ray Mehlenbacker, Paul Perrota and Ralph Conte were the first members.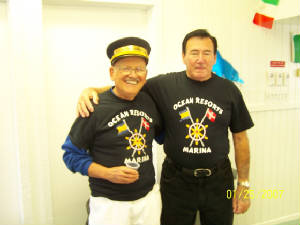 They started having fish fries, but the fish wouldn't cooperate, so the menu was changed to spaghetti and meatball dinners. That started making money for us which in turn would go the Committee rolling into action. The members built the southern dock and we able to add a cement walk.
People began buying lots that were being sold by Bryn Mawr at the following approximate prices: Oceanside, $22,000, Riverside $22-$24,000, Inside Lots $14,995, Extreme Southern Lots, $12,995.
The agent was Stephen Lord.
Shortly thereafter, park models began to come in and afterward, permission was granted to build decks on the side of them. The Marina Committee swung into action and helped people build decks. All the owner had to do was buy the lumber and beer. Of course, someone squealed and then the city forced us to hire contractors. Some negativism developed.
The Marina Committee headed to our ocean. There was a small path from the road to the ocean. It was then that Herb Huth, Red Cunningham, Ray Mehlenbacker and all other members engineered and built the walkway to the ocean.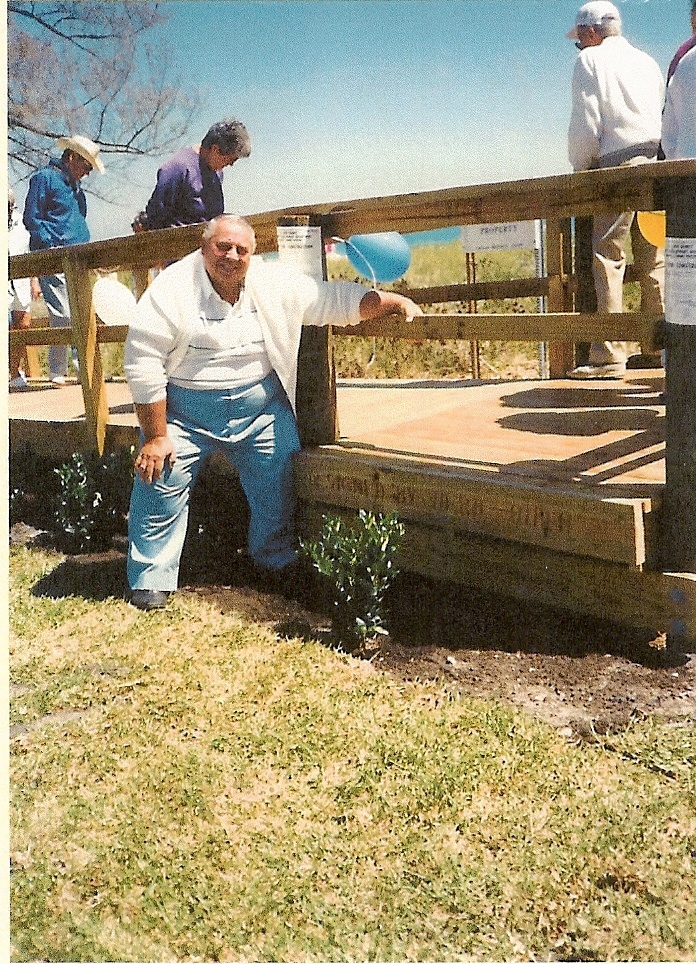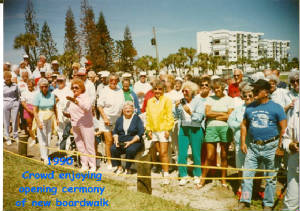 Money was raised by selling boards with engraved names of the contributors on them and our Committee made a contribution.
We also helped beautify the park. Ray Smith just kept repairing and painting most of our buildings. The Beautification Committee was then formed and then our park slowly became even more beautiful.
The office was located at the front entrance to the park. It had an octagon shape and rested on stilts. It was taken down and moved to town.
A person named Shirley Humbert decided she would like to start a committee to entertain our residents, but there was no way to fund this. They needed money to buy t-shirts so they could start what is now referred to as the Special Events Committee.
All the committees met with Shirley Humbert and Barbara McDonald. They needed $500 to start their adventure. There was no response from the committees. Ralph Conte, who was then the president of the Marina Committee, came forward with the entire $500. The Special Events Committee was then able to buy their t-shirts. In turn, they sold those t-shirts, made money and began sponsoring Luaus and other events. They paid the $500 back to the Marina Committee and went on to become the Committee that still provides most of the entertainment in our park.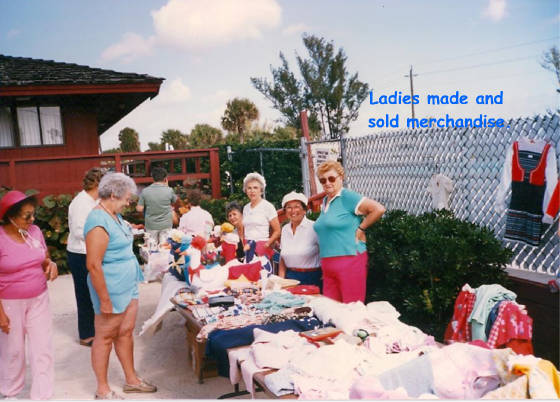 Another great committee was run by Ida Smith, another great woman in our park. She has run flea markets, hot dog roasts, Christmas parties, ice cream socials, etc., the proceeds of which have provided us with many wonderful things.
Soon thereafter, the Marina Committee began to refurbish the marina. Paul Kozlowski built stainless steel fish tables in Ohio, loaded them into his pickup truck and drove them all the way to Ocean Resorts to take their place at our marina.
We then bought a pressure washer from Wolf, who worked for Charlie Duncan. Charlie was the president at that time. The marina was hit by storms twice and was completely refurbished at the cost of approximately $12,000 and was paid for entirely by the Marina Committee.
The park became more beautiful as newer models arrived. Ralph Conte, along with Dan Ryan, who then owned a trailer and motor home business, brought in two models. The first one was taken from US 1 with a pickup truck followed by Ralph Conte's MG Midget.
More models kept coming and slowly but surely motor homes, trailers, fifth wheels and yes, tents started to disappear. With all these beautiful models also came a bit of sadness. People began spending time inside their homes. Outdoor interaction disappeared. We still liked each other, but our outdoor exposure was replaced by porches and things changed.
Our park is different now. Two seasons ago we were approached by a large company who suggested purchasing Ocean Resorts and offering somewhere in the neighborhood of possibly one million dollars for each of our home sites. It was an exciting thought for awhile, but searching for another place to relocate brought forth the reality of the special place in which we were living that could not be replaced. The deal was cancelled.
Costs are rising due to increased taxes, utilities and construction fees making it difficult for some people to continue to live in our "Paradise."
In conclusion:
Let's all pull together to make this a better place. Join a committee - you will have fun!
Attend as many functions as possible.
We have been coming here for 38 years and helped in so many ways. We will continue to do so ... but now it is your turn!
HOW ABOUT IT?
RALPH CONTE
DOCK MASTER OF OCEAN RESORTS
A SMALL STORY OF THE PAST, Feb/M,2010
By Ralph Conte
Last month I read a small story in our paper about the flagpole at the end of our boardwalk. The very first pole came from Cuba. Here's how it got here.
Every morning myself and a guy from Canada used to meet on the boardwalk with our dogs and plastic bags. He would go to the right, and I to the left to pick up after our dogs and any trash on the beach. We did that every day and the beach was immaculate.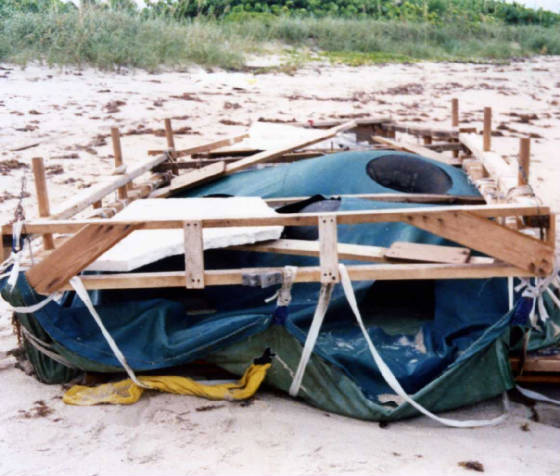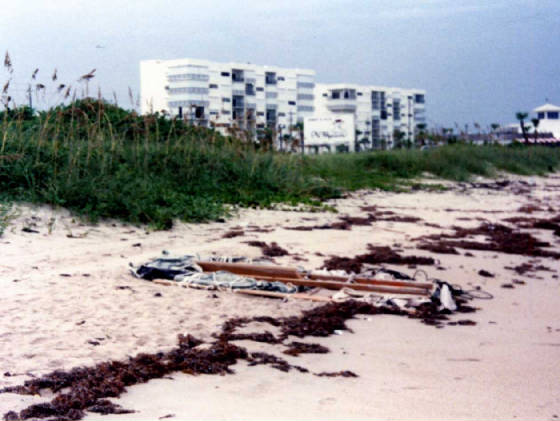 One morning, on my side, there was a large piece of Styrofoam with three truck inner tubes, two oars, a large bamboo mast and sail. I went right home and came back with some tools and dismantled the whole thing. I used the inner tubes to ride the surf, and they were great. I took the canvas and long mast and dragged the Styrofoam into P.V. Martin's parking lot. I then made a rig, bought a windsock, and placed the pole at the end of our boardwalk. I put flags on it for 4 years, and Helen Foti loved it because she said she could see the direction of the wind so her umbrella could be set in the right direction.
Then one of our shareholders passed away and his wife asked me if she could put a manufactured pole in place of the Cuban pole as a memorial and naturally I said "yes", and that's how the present pole got there.
The two Cuban guys were caught in Fort Pierce, and the Styrofoam was removed by a state trash truck. I don't know if they were sent back to Cuba. The story was in the Press Journal. I must say this though, those two guys had a lot of guts and were pretty good sailors. Cuba is a pretty good distance to come here with that small rig.
The next paper will be the story about the cocaine.
Another Small Story ....., March 2010
In the last issue, I promised you another small story about our Park Last month we discussed the origin of our pole at the end of the boardwalk. This month we have a story about cocaine.
During our beach cleanup, we spotted 3 bails of something riding the waves right close to the shore. We went into the surf and put them on the shore. We could see packets of white powder, and I thought right away that it had to be cocaine.
We called the police, and within minutes thee were police all over the beach with shotguns and pistols. A few minute later an armored truck pulled up and a bunch of police carried the 3' x 3' packages to our boardwalk and into the armored truck They thanked us and said we probably prevented over wo million dollars from entering the drug market.
Ralph Conte