TENNIS AT OCEAN RESORTS
by Cathy Moon
Carolyn Leaman (2010) Photos and videos added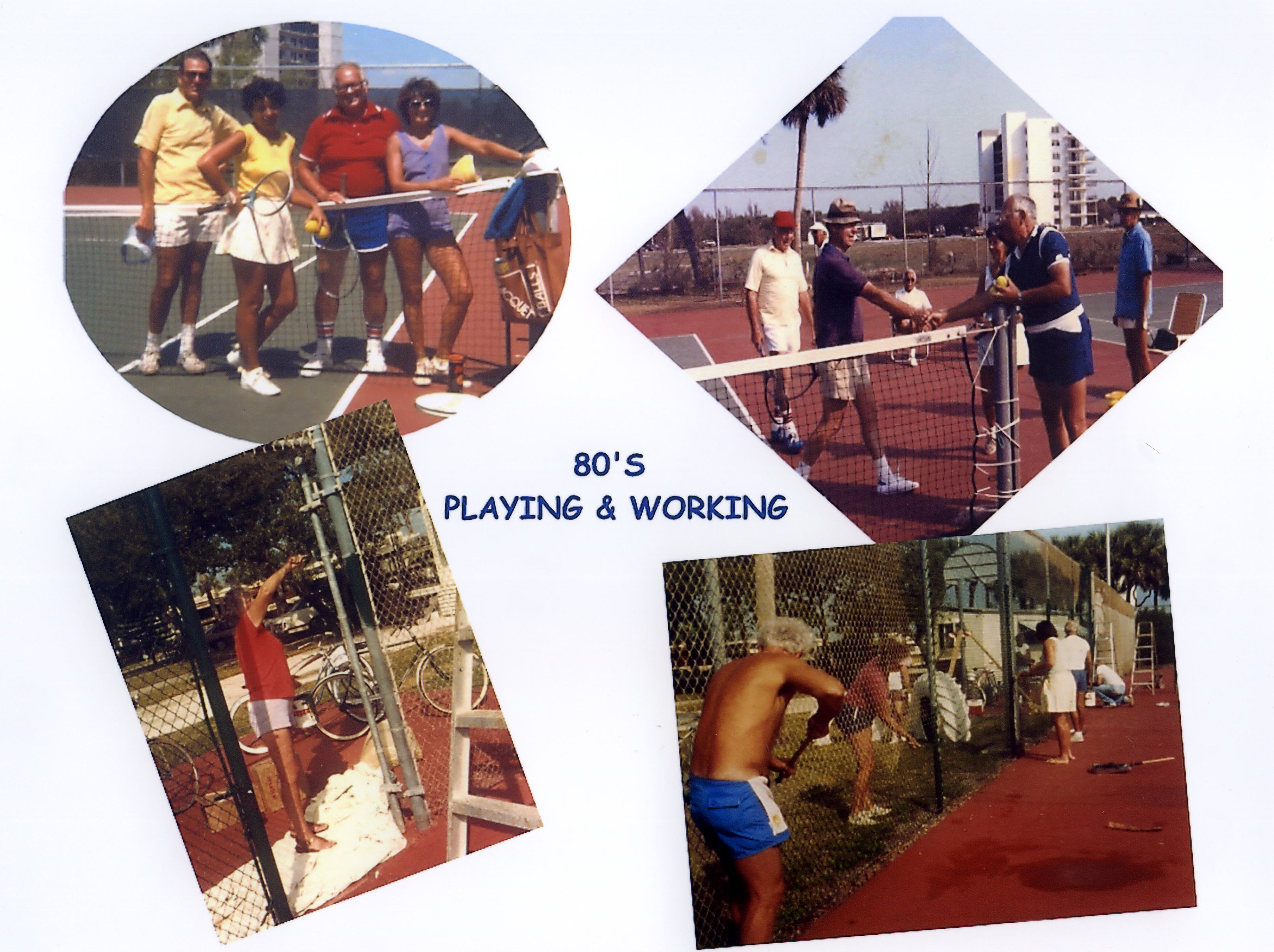 Have you ever wondered what's under the sandy green turf on our tennis courts? The answer is concrete - pink concrete. In O.R.'s early days as a campground, it had traditional concrete courts, painted green in the center and pink (probably once red) on the edges.
Below, Workers & materials for 1986 court installation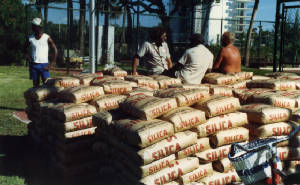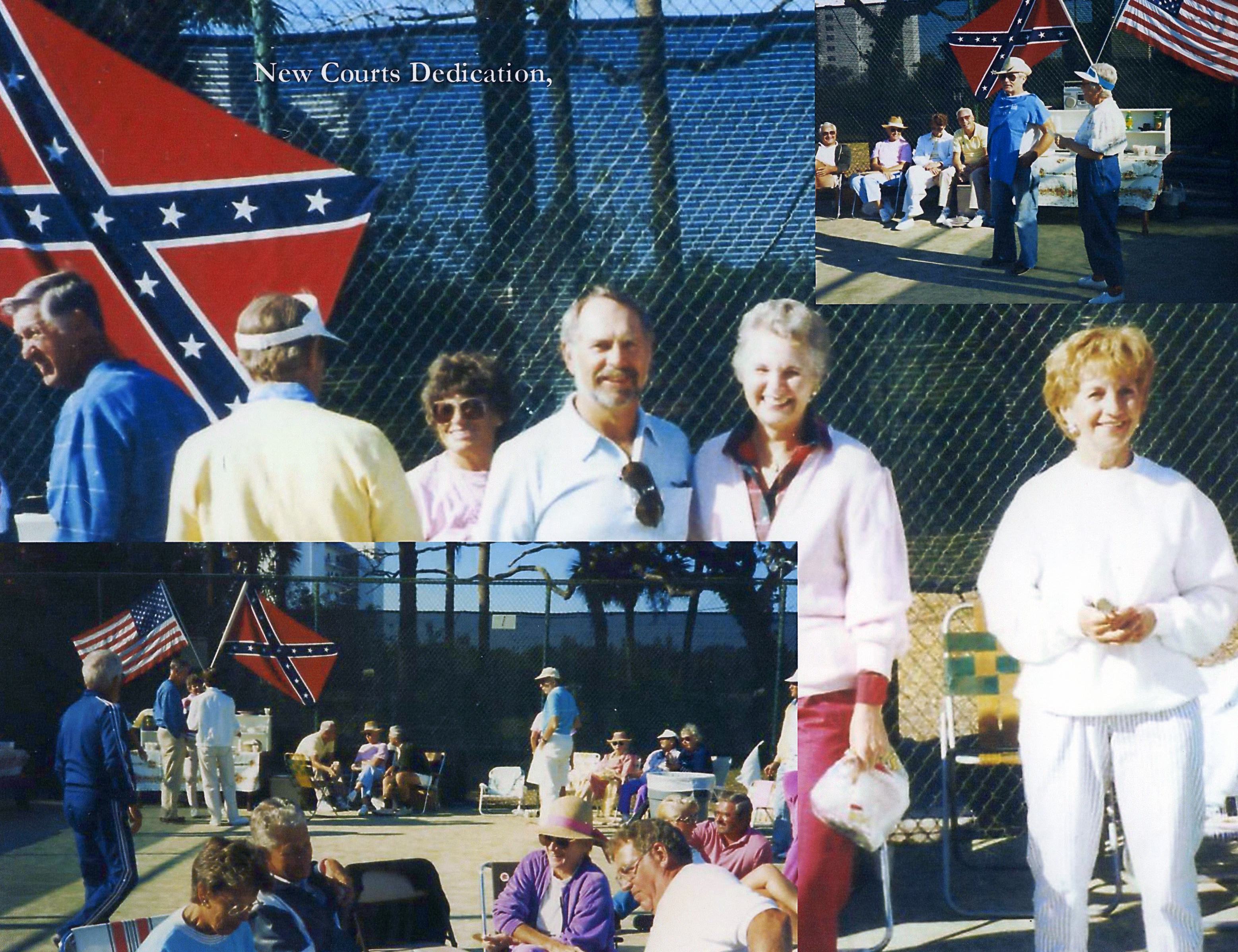 The first artificial turf courts were installed in 1986, a replacement in 1996, and another (due in part to hurricane damage) in 2005. The turf is special in that it has fine sand worked in, to a prescribed depth, to keep the bristles upright and to soften the playing surface. As a result, many of our players whose aging knees had forced them to give up tennis are able to play again, comfortably.
By the mid-1980's, tennis enthusiasts had multiplied in numbers, and the group began to organize. Many shareholders were instrumental in making O.R. tennis what it is today, notably Jim Drysdale, Grant Howley, and Rick Rechenbach (one of the first presidents of the group). Countless others, too numerous to mention, pitched in to help.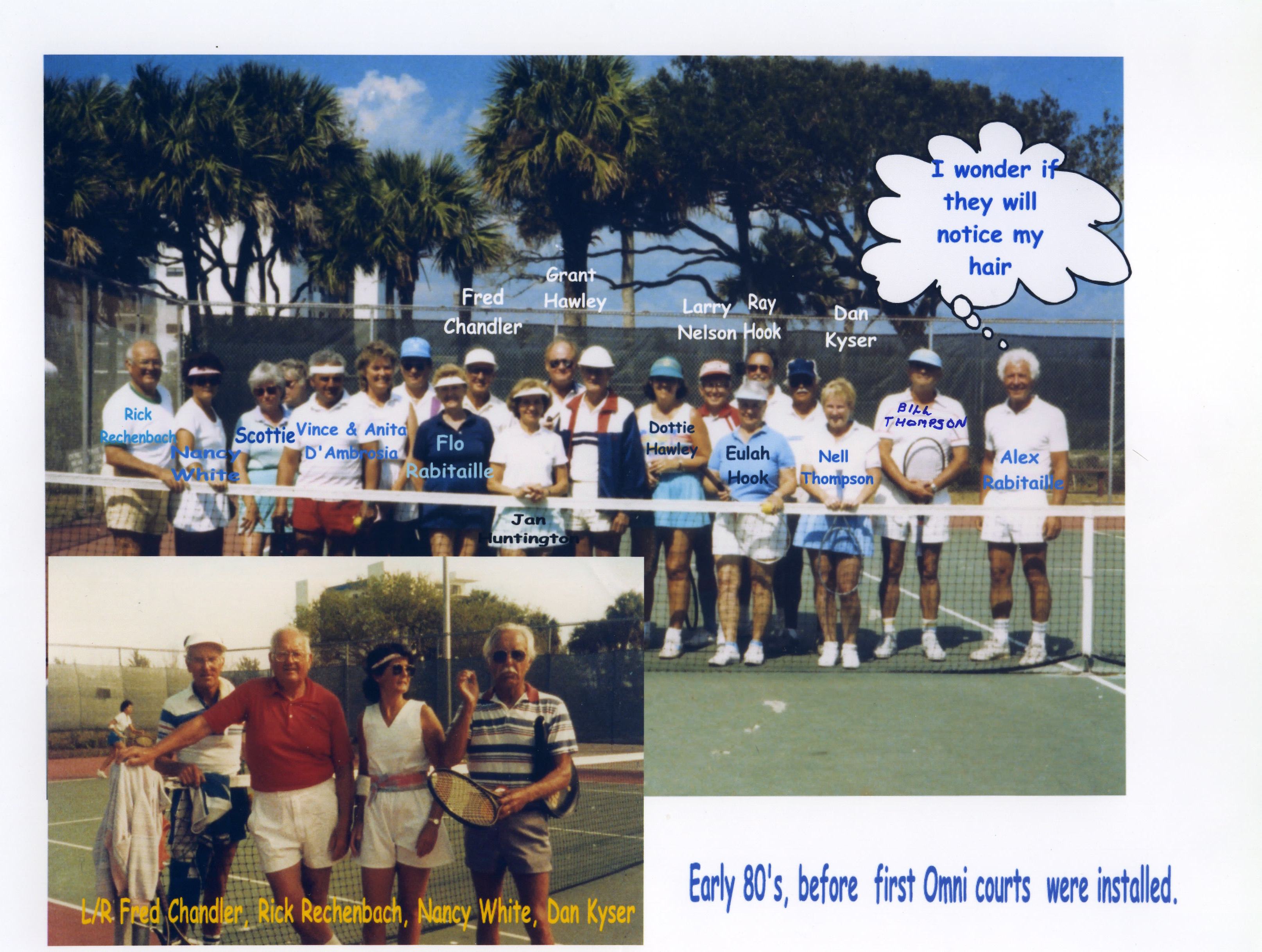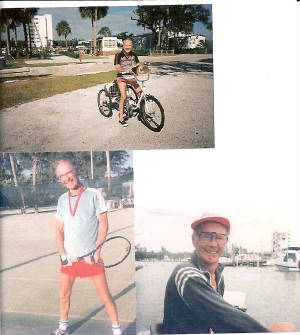 Bill Howe, long time tennis player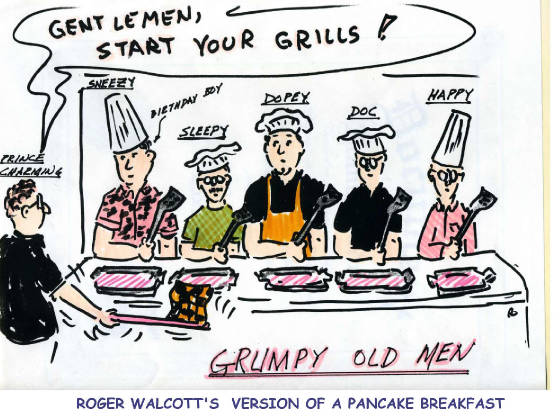 Soon, the group began sponsoring tournaments - singles, doubles, mixed doubles, and spouses'. These were friendly get-togethers, as much social mixers as skills contests. The need arose for financial support for court improvements, tournament prizes, etc. And so the tradition of the pancake breakfast began. Its first chairman, Alex Rabitaille, had to make do with a kitchenless recreation hall, with the women cooking sausages in their homes and dishes being washed in a laundry sink. The breakfasts were successful and have continued, either two or three times each season, with a great deal of money raised for court improvements.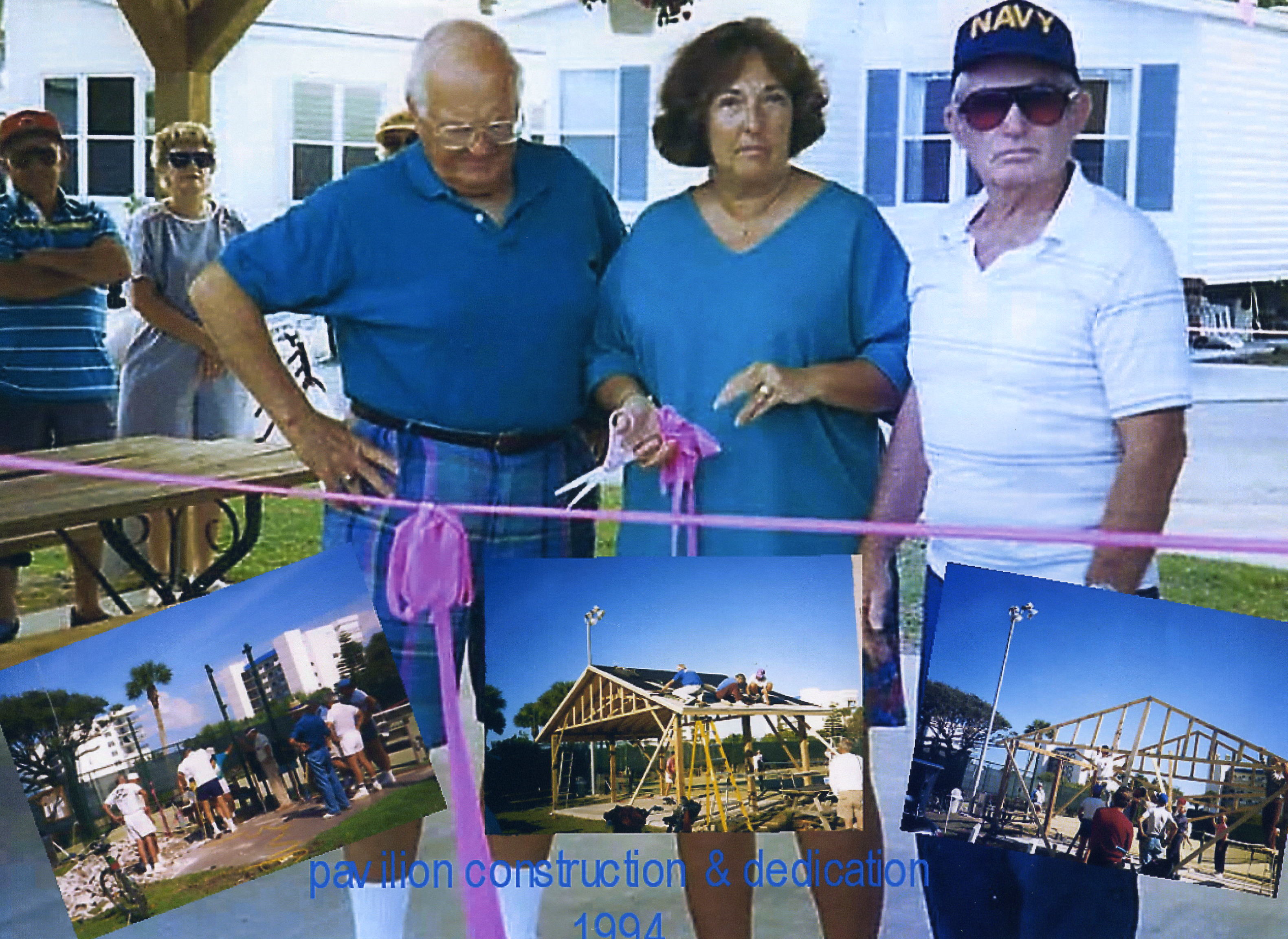 The most ambitious improvement was the building of the tennis pavilion. Nobody can eat THAT many pancakes, so a fund-raising project was conducted, with John Blackadar at its helm, and the pavilion became a reality in 1994.
By this time, tennis had become very popular at O.R., and court time was scarce. A few private groups had sprung up, each with an agreed-upon morning time slot. But with many more people wanting to play, it was decided that morning tennis would be open to anyone who wanted to sign up, three hours for men's doubles, and three hours for women's doubles. In the beginning, Bernie Massatt did the scheduling for both groups. Gradually (mid '90's). Jean Lockerby, Mary Pinsonneault, and Cathy Moon took over the women's scheduling, a job Moon still holds. The previously established morning groups moved to afternoons, and there weren't enough hours in the day for all who wanted to play. "Early Birds" played at 7 AM, accommodating anyone who showed up with a racquet (round-robin format), soon to be followed by "Late Birds", which did the same at 5 PM. Evening mixed doubles also was established, first informally and later as a scheduled activity. In its heyday, the courts were busy from 7 AM until 10 PM, when the lights automatically shut down. The Early Birds have since fizzled out - there's a lot to be said for sleeping in, as one gets older - and court time is more readily available today, but an enthusiastic crop of new players is emerging, so stay tuned.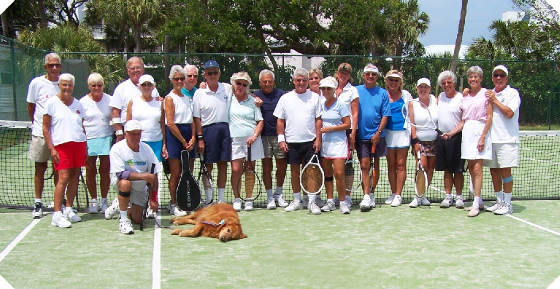 Other innovations included Traveling Teams, with O.R. scheduling matches against other area teams (organized first by Andy Bonetti and still going strong), and the "Good Life Games", sponsored by Indian River County for several years, pitting area "over-55" clubs against each other. Tennis players took part in several Ocean Resorts Week talent shows, usually singing familiar tunes with lyrics written for them by Mary Post. All these activities have increased the camaraderie enjoyed by the entire community, players as well as spectators.
More recent court improvements included aluminum bleachers at both ends of the court, bike racks and paver bricks at the west end, and a canopy over the east end bleachers, all spearheaded by Bob and Fran Baxter.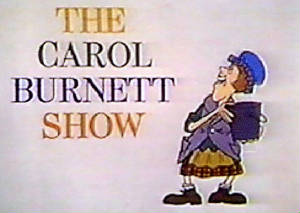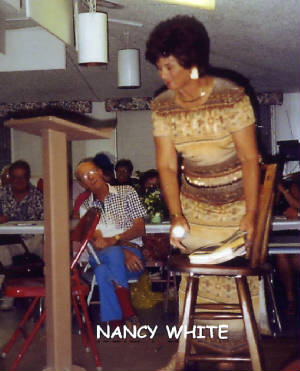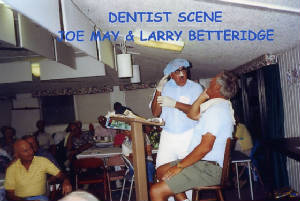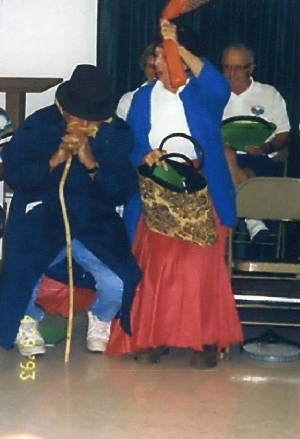 Above is scene from 1999 parody of Laugh In. Roger Walcott playing dirty old man & Flo Rabitaille playing the old woman -- Ruth Buzzy's part.
Tennis year-end parties some of them elaborate spoofs on well-known TV shows or pro tennis players; have been the high point of the season for several years. Tennis remains a strong attraction at Ocean Resorts, even though numbers have dwindled through age and attrition, and there is no longer a race to get to the sign-up sheet in time to acquire a court. The pavilion, which enjoys a cross breeze in even the hottest weather, remains a popular spot for players and spectators alike to sit and visit.