ISLANDERS SOFTBALL By Cathy Moon
For many years, Ocean Resorts has been home to our very own "Boys of Summer"...er, "Winter". The Islanders, a Senior League softball team, was originally limited to male players over 50 years of age; gradually the age limit rose to 55 and then 60. Today the slow-pitch league has incorporated numerous special rules, designed to prevent injuries. There is no sliding, no stealing, no bunting, and unlimited substitutions. There are separate first bases and home plates, to avoid collisions. More rules seem to be added each year, some of them sounding pretty silly, especially to the guys who have played softball or baseball most of their lives, but they enable players to remain active well into their 80's.
The 2011 Islanders range in age from 60 to 85. They play 20+ games during January, February and March, on Wednesday and Friday mornings. Their "home" field is the county complex at 13th and Quincy in downtown Fort Pierce. Other games are held in northwestern Fort Pierce and Port St. Lucie. The games end, conveniently, in time for players and spectators to enjoy lunch at a local watering hole.
Rick Rechenbach, a former resident, was the team's manager in the early days, followed by Dick Huntington, Jack Mansell, Dan Darrow, and currently Joe May. Alex Rabitaille was a member of the original team. The cast of characters changes every year, with Jim Kalk and Jim Moon currently the longest tenured players. Other current players who live in O.R. include: Steve Cartledge, Dave Comolli, Riley Harrison, Pete Hazlett, Jack Maggion, Joe May, Bill Nowacki, Ron Olin, Jim Oliver, Jerry Smith, and Dan Voss. Pete Kearns serves as umpire. In recent years, more and more players have been recruited from outside O.R., to make up for the dwindling numbers available here,
In the 1990's, when Ocean Resorts held an annual Talent Show, the Islanders could be counted upon to perform. Chuck Lockerby, Jack Mansell, and former resident Harry Richter often teamed up to produce a skit or song to showcase the off-field talents of the players. (Don't quit your day jobs, boys.) A year-end picnic is an annual event, usually including awards and some good-natured ribbing
The team's win-loss record has varied greatly through the years. After a number of years in which 3 total wins was considered a normal season, the Islanders took first place in the league three times in a row (1997, 1998, and 1999). Then came a slump, a couple of "rebuilding" years, and several years when finishing anywhere above last place made it a banner season. But the guys have a good time playing, and their cheering section (wives and a few other stalwart fans) enjoy the camaraderie of the bleachers. And they remain loyal...at least as long as they get a lunch afterward.
On the softball field, aging athletes have a chance to be kids again, and they have a lot of fun. Play ball!
ISLANDER SOFTBALL BY Jean Lockerby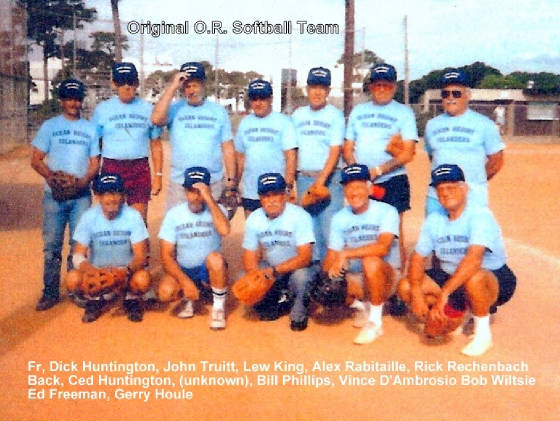 I do not know what year the softball team started. However, it was sometime in the mid or late 80s. While we are original owners we did not retire until 1990, so Chuck did not play until retirement. Ann King appeared to be the "in house recruiter". When she found out Chuck was retiring, her first question was "do you play baseball?" Ann was always recruiting. Of course, it was softball but many people used the term baseball. I have listed the players through the years that I recall. Alex Rabitaille, one of the original ones recalls that Bill Howe always brought his own bat (per Betty, Bill never played, so I removed his name from the list). Alex remembers Rick Rechenbach was the first manager and that Ray Hook played first base. I called Eulah and Ray did play for one or two years. At the time Chuck retired and started playing, Dick Huntington was the manager. Unfortunately a few years ago after Chuck stopped playing, I threw out my old files and score sheets (I had been keeping scores at the games for several years), so I have tried to remember names, called old-timers and talked to several people involved to try to come up with a list of all the previous players . After Dick Huntington stopped playing, Jack Mansell became the team Manager. During that period, Chuck, Jack & Harry Richter each year prepared a skit for the talent show, often a combined skit with the tennis group. Chuck still has a few of the skits they wrote. Jack Mansell eventually stopped playing and Dan Darrow became the manager and Ham Miller, the Assistant Manager. Many will remember Gerry Houle, who entertained everyone at the Ice Cream Socials each year by doing cartwheels in front of the post office. Gerry's widow, Therese Houle still owns a unit on Jib Way. Each year we had a team picnic, one year in front of Dan's house - subsequent years at the pavilion. The OR team was champs in 1998. Joe May followed Dan Darrow as Manager. During the years of the softball team's existence, rules have changed many times. The wives and other spectators from the Park attended the games (cheered them on with our blue pom poms) and usually went out to lunch afterwards.
Some years the league allowed us to use outside the park players, other years we could not. While it was an over 60 league, there also was some stipulations allowing a certain number of players to play who had not reached 60. The list I have come up with includes those players from outside the park. Rules were different from other softball. There was no sliding, no bunting, no stealing bases and unlimited substitutions. A pitched ball was called a ball if less than six feet high or more than 12 foot arc. A strike was called when a pitched ball strikes the plate or mat. Pinch runners were allowed and certainly necessary at times, as there was always injuries, arthritis, etc. Everybody wore braces, bandages and whatever. Games, of course, have always been played outside the park.
There is still an Ocean Resorts Islander softball team, however, most of the players are from outside the park. Joe May is still Manager.
SOFTBALL PLAYERS THROUGH THE YEARS - (listed alphabetically)
Bob Alton (from outside the park)
Al Ammirati
Clayton Arnold
Russ Bahler
Wayne Baker
Bob Baxter
Larry Betteridge
Fred Boardman
Bill "Bo" Bowcock
Bob Butler
Gene Calek
Steve Cartledge
Bob Cavanaugh
Carl Cerniglia
Bill Cicilian (from outside the park)
Dave Comolli
Bill Coons
Ralph Crissey
Vince D'Ambrosio
Dan Darrow - Manager
Dan Dempsey
Dick DeVeney (outside the park - eventually went to Golden Pond)
Bob Feaser
Ted Freyteg - Umpire
Ed Freeman
Luis Garcia (from outside the park)
Lou Goddard (was from outside the park, eventually went to River Green)
Leon Guitard
John Hammele
Riley Harrison
Dick Heck
John Henry (from outside the park)
Harold Himes
Frank Hoffman (from outside the park)
Ray Hook
Gerry Houle
Ced Huntington
Dick Huntington - Manager
Harry Johnston ( was outside the park - eventually went to River Green)
Jim Kalk
Pete Kearns
Lew King
Tom Kisselle
Dana Lemmerman
Chuck Lockerby
Jack Mansell - Manager
Joe May - Manager
Lyle McKewon
Dale Mewes
Ham Miller - Asst. Manager
Jay Miller (from outside the park)
Don Mills
Joe Moert
Jim Moon
Ron Olin
Chuck Oliver (from outside the park)
Jim Oliver
Roy Oth (from outside the park)
Mel Paulson
Paul Perrotta
Bill Phillips
Alex Rabitaille
Rick Rechenbach (Manager)
Walt Rehito (from outside the park)
Harry Richter
Mike Rusyniak
Mickey Schulte - from outside the park
Jerry Shinkevich
Phil Soyring
John Stampfli
Ron Sontag
Lloyd Stoker
Dick Tate
John Truitt
Dan Voss
Frank Voss (from outside the park)
Bert Weed
Ray Wilkins
Bob Wiltsie
Bob Wimple (from outside the park)
Lenny Zitz