North Beach Association (NBA)
The North Beach Association of St. Lucie County, Inc. was established in 1979. It was organized with residents from the Fort Pierce Shores area, the Galleon, Coral Cove and Jackson Way. Records show that the purpose of the organization was as follows:
PREAMBLE: To make the North Beach of St. Lucie County a better place to live and to maintain and improve the value of all property. To preserve the natural beauty of the North Beach and to protect its ecological aspects. To protect our beaches and waterways and the many tourists who visit our area.
OBJECTIVES.
1. To make certain that Law and Order is maintained on roadways, beaches, recreational lands and all surrounding waters. This can be accomplished by enforcement of existing laws and proposing new laws if required.
2. Maintenance of existing roads and paving of new roads as growth and circumstances require.
3. Extension of water, lights and proper sewage in developing areas and for better fire protection on the North Beach.
4. Require clean-up of unsightly properties both individual lots, subdivisions and developments.
5. Require subdivision covenants and zoning restrictions be strictly adhered to and to enforced whichever may be more restrictive. This will maintain and increase the Real Estate value of all properties on the North Beach of St. Lucie County.
6. To effect planned growth and development on the North Beach as now required by the State of Florida.
The organization filed its Articles of Incorporation on October 19, 1979. The original signers of the Articles were: Joseph A. Cimino, Richard Butche, Stan Blum, Cal Hayes, Jeff Mitchell, Pinnie Oliver, Eleanor Skidmore, A. Sorrentino and AI Smith. The Board of Directors consisted of 9 people with Mr. Cimino as president
Records are not available as to some of the early Association leadership and activities until Shirley Burlingham compiled some early history in March 1997 at the beginning of her 8 years of Association Presidency. Shirley retired in April 2005 from the NBA Presidency after 22 years of very active service to the North-beach area, as she and her husband, George, were moving to South Carolina to be closer to family. Craig Mundt succeeded Shirley as President of the NBA, and like his predecessor, was also active in County matters. By 2012 Craig had served on the St. Lucie County Planning and Zoning Board for 3 years (Chairman) and on the Citizens Budget Committee. He was also very active in support of the expansion of the UDT Seal Museum, was a Trustee on its Board, and received the Florida Association of Museum's Trustee of the Year Award in 2011. The current Articles of Incorporation for the NBA were filed with the county November 6 2006 after being updated.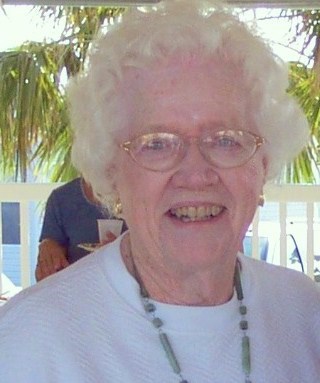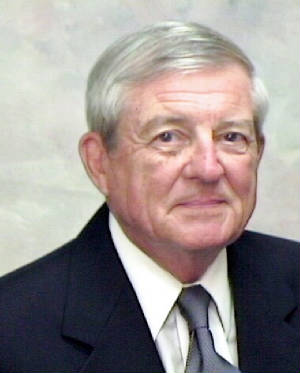 SHIRLEY BURLINGHAM & CRAIG MUNDT
Following are key accomplishments of the NBA in its early years as condensed from the list that Shirley Burlingham created in 1997.
1981 - Convinced the county to repave all roads in Coral Cove Subdivision.
1983 - Caused the county to place street lights at entrances to Coral Cove, Jackson Way and A1A. Also, prevailed on the Public Services Commission to lower water rates with North Hutchinson Island Services.
1984 - Started pressuring Florida Department of Transportation (FDOT) to improve roadside drainage swales to reduce flooding.
1985 - FDOT did some swale cleaning but more pressure needed.
1986 - FDOT finally cleaned and upgraded the swales to provide flow from the area. Won an ordinance for cutting back or removal of Australian pines near property lines. Asked FDOT to monitor dangerous condition at entrance to Queens Cove with 55 MPH speed limit and a no passing zone. FDOT finally addressed it in 1987 and promised a no passing zone in 1988! Filed a 1,600 name petition with Commission asking FDOT to limit bridge openings to certain hours. FDOT never did anything about it.
1987 - Protested variances granted for the Harbour Cove development and caused site plans to change. Helped get entrance established to State Park from Atlantic Beach Boulevard.
1988 to 1997 - helped get house boats and derelict boats removed from Harbour Cove. Supported completion of sewage plant. Prevented electrical provider from being transferred from Florida Power and Light to Ft. Pierce Utilities (was thought to be part of Ft. Pierce's attempts to annex North-beach). Worked with county commissioners in restricting building height (125 ft. for condos and 35 ft. for residential units). Helped to keep paramedics stationed on the island. Supported the widening and resurfacing of A1A.
In January 2013 Craig Mundt provided the following information in that month's North
Beach ISLANDER (paper published bimonthly by the NBA) to summarize the NBA activities over the prior 7 years.
He wrote, I'm asked from time to time what is the benefit of North Beach Association to island households or associations. I'd like to summarize this for you. The objective of North Beach Association (NBA) is to undertake activities and support governmental actions which will:
1. Make the North Beach Area a better place to live.
2. Maintain and improve the value of all property.
3. Preserve the natural beauty of North Beach and protect its ecological aspect.
4. Protect our beaches and waterways for island resident use and enjoyment.
The NBA has close working relationships with the agencies which secure law and order, maintain our roads, parks, water, waste, lights, and provide fire and rescue. We try to ensure clean-up of unsightly properties and adherence to the county Land Development Code and zoning restrictions by property owners and developers.
NBA Activities since 2005 (condensed):
We assemble, print and mail newsletters every other month to all member households. An email version in color is available. This is very popular as it keeps both local and seasonal residents aware of county and island happenings and reports real estate listings and sales.
Every meeting has speakers, who typically cover topics such as beachfront development, erosion, hurricane preparedness, Mosquito Control, Sheriff Ken Mascara, Clerk of the Court, County Commissioners, upcoming A1A road improvements, Dr. Edie Wider of ORCA and Fire Chief Ron Parrish and a host of others. A sheriff's Crime Prevention representative is at most meetings reporting island incidents and offering protective tips.
We have candidate forums in election years for persons running for county offices .
The Ginn Company proposed to build a three story beach club and restaurant with rental rooms and a 300 foot long double deck parking facility across the street from Ocean Resorts and Ocean Harbour North. This would have significantly blocked the ocean views for those communities. North Beach Association hired the surveyors and engineers which proved the developer lacked sufficient property for the density proposed. NBA then successfully had its attorneys present a case to the Board of Adjustment which denied Ginn the request for a variance. This lead to an abandonment by Ginn and ultimately resulted in Ocean Harbour North being able to purchase a portion of the property.
NBA sponsored meetings between island residents and Florida Department of Transportation which gave input for the Highway A1A rebuild and landscaping which began on September 17, 2012. NBA efforts resulted in five new pedestrian activated crossing stoplights.
NBA monitors A1A roadwork and maintenance with FDOT and its contractors. Issues we reminded them about were cutting the swales, roadside and sidewalk vegetation clearing, sidewalk repair and trash clearing along the roadway.
NBA worked closely with the National Navy UDT SEAL Museum toward funding their 2011 expansion which now includes a meeting center for use by island residents and became the permanent voting precinct.
NBA worked with the county and state for four years to bring about the several mile sidewalk extension north to the county line.
The P.V. Martin restaurant was badly damaged in the hurricanes of 2004.NBA forced the condemnation and removal of the unsightly building.
NBA defeated a proposed 20 stall RV overnight park on the P.V. Martin site.
Distributed post storm reentry badges.
NBA had artist created mosaic tile rest benches installed along A1A. Concrete pads are being installed by FDOT.
NBA defeated county abandonment of three rights-of-way on beachfront acreage. This would have reduced beach access.
NBA wrote Florida Department of Environmental Regulation and Florida Department of transportation regarding the tunnel and detour at Round Island Plantation on N. A1A. We got improved signs.
Someone from NBA attends all County Commission, Planning/Zoning Board, Board of Adjustment (BOA), and county budget meetings. Reports are then made to island residents.
NBA wrote letters in support of condominium boards and their members on various issues.
NBA participated in planting 1,000 native species in Pepper Park.
NBA spoke at the county Board of Adjustment meetings and defeated a variance proposal to place 14 townhomes on a 1.7 acre piece of beach front property.
NBA has worked with the Director of Planning and Development Services on several island issues. He has also addressed our meetings.
NBA has organized island beach clean-up days.
NBA has for several years participated at "Party in the Park" in Ft. Pierce Inlet State park to raise awareness of the organization, present environmental and ecological issues on the island and seek new members.
NBA fought rebuilding badly damaged properties that violated county ordinance.
Grande Beach reduced the number of homes proposed and increased retail space.
NBA had debris piles at Queens Island Preserve north of Paragon cited by Code Enforcement and removed.
NBA regularly sends out notices for posting at HOA's and POA's by our directors regarding safety and informational issues.
NBA worked with the state legislative delegation to defeat proposed laws that would harm condominium owners, board of directors and HOA's.
NBA got the county to hire Signal Group, a contractor, to repair street lights along A1A where no one wanted to claim responsibility.
NBA monitored the St. Lucie County Utility Authority proposal to expand the waste water treatment plant on the island and has objected to increased waste effluent being held and treated on the island. It has suggested alternatives such as piping all effluent off the island and has hired a professional engineer for consultation. The county has agreed to reduce the size and visual impact of the facility. NBA fought the proposed utility rate increases, which are up to 30% higher by engaging attorneys and consultant experts.
NBA and the island are well represented in county affairs as its president sits as Vice-Chairman of the St. Lucie County Planning and Zoning Commission and is a member of the Citizens Budget Committee.
Arranged for Emergency Medical Course to be given.
Met with Bryn Mawr, Ocean Resorts, and Ocean Harbour North representatives to ascertain their preference for development on PV Martin site and conveyed to Ginn Company.
Met with county fire chief re EMS refusals to transport island residents to Indian River Memorial Hospital and had policy corrected.
The North Beach Association Twenty Fifth Anniversary celebration was held in the Sunrise Theater, wine tasting and hors d'oeuvres. (Free). 600+ guests
Held three picnics at the UDT-SEAL Museum. Museum grounds and exhibits open. (Free)
Open house and evening at Harbor Branch Oceanographic with behind the scene tours, Columnist Anthony Westbury as speaker. Food and beverage served. (Free) 300 guests.
Evening at the Backus Gallery and Museum. Food and beverage. (Free) 300 guests
Worked with the Sheriff's Department to provide additional patrols on the island during major holiday weekends i.e. Labor and Memorial Day.
Consulting with State Representative Debbie Mayfield and received letter of support from County Commission Chairman Todd Mowery to the state for the rebuilding of Jack Island Bridge.
Working with the Parks and Recreation Department of St. Lucie County for the rebuilding of the docks and fishing piers in Pepper Park.
Working with St. Lucie County to have parking lot lights installed in Pepper Park.
North Beach Association is supporting the authorship of "The History of North Hutchinson Island" from its discovery to the present and includes all development activity.
Will have the new County Commissioner for our District 5 address members at our annual meeting January 14.
Made recommendations to the county staff and Board of County Commissioners on county expenses and taxes.
A member is on the County Board of Adjustment.
A member is Vice Chairman of the County Budget Committee.
NBA sponsors the Citizens Observation Patrol, C.O.P., which has more than a dozen uniformed members cruising the island. Training and a patrol car provided by the Sheriff's Department.
Many years ago the Board of County Commissioners placed all of the island commercial land on a single 9 acre property. When a developer tried to rezone to residential only, NBA litigated and then negotiated that commercial building be included in the plans. Grande Beach, when it is built on the Sands Plaza site will have commercial space of 17,000Square feet (up from 8,000) and 70 (down from 104) housing units of NBA activity.
NBA spoke before the county commission against installation of wind turbines on the beach. Project appears to be dead.
An NBA officer is among "The 100" which honors peace officers and first responders annually and gives financial aid when necessary. This ties us closely to public safety officials.
An NBA officer is on the Board of Directors and President of "Arts and Cultural Alliance of St. Lucie, Inc." which raises and provides funds for local arts organizations to provide and improve art, culture and education in the county. This makes the county and island overall a more desirable place to live.
Pelican Bay proposed 56 town homes on property in back of Ocean Harbour Villas. NBA hired attorneys and consultants who informed the county and developer NBA would litigate if the developer attempted to double dip density from the property (density from the site had already been transferred to build Ocean Harbour South). Request withdrawn.
Defeated Collins rezoning for multi- family units at corner of N. A1A and No Name Road. This maintains area single family unit character.
Has a representative working with FPL to improve utility reliability. Had badly aged and tilted wooden poles replaced at multiple locations.
Worked with county and state for two years to secure "Scenic Highway" designation for Highway A1A.
Worked with the Mosquito Control District on repairs and improvement to their impoundments.
Worked with the county to create Kings Gate Park which is the property buffer between Atlantic View property and Bryn Mawr.
Had the Galilee motel cited and boarded. It was eventually raised.
Works to have unsightly lots improved. Pays to clean and mow some.
Wrote state about slow insurance settlements after the hurricanes.
By 2000 the Association was better known as The North Beach Association or NBA and by 2012 it had grown to support 43 associations with more than 1,000 members. In 2012 it initiated a web site (www.northbeachassociation.org) to provide ready information for "North Beachers". The NBA is really an association of associations representing Condominiums operating under FL statute 718, Cooperatives operating under FL statute 719, and Residential Communities operating under FL statute 720.
| | | |
| --- | --- | --- |
| Association | # Units | Type Association |
| ALTIMIRA | 48 | CONDO |
| AQUANIQUE | 112 | CONDO |
| ATLANTIC VIEW BEACH CLUB | 102 | CONDO |
| ATRIUM II | 44 | CONDO |
| ATRIUM ON THE OCEAN | 44 | CONDO |
| BARCLAY BEACH CLUB | 78 | CONDO |
| BREAKERS LANDING | 72 | CONDO |
| BREAKERS LANDING | 72 | CONDO |
| BRYN MAWR OCEAN TOWERS | 156 | CONDO |
| COASTAL COVE -JACKSON WAY | | |
| CORAL COVE-BERMUDA BEACH DRIVE | | |
| CORAL COVE-BIMINI DRIVE | | |
| CORAL COVE-FLOTILLA TERRACE | | |
| CORAL COVE-MARINA DRIVE | 33 | HOA |
| FORT PIERCE SHORES | 154 | |
| GALLEON | | |
| GRAND ISLE | | |
| HARBOUR COVE | 43 | HOA |
| HIBISCUS | 116 | CONDO |
| OCEAN HARBOUR NORTH | 156 | CONDO |
| OCEAN HARBOUR SOUTH | 192 | CONDO |
| OCEAN HARBOUR TOWERS | 80 | CONDO |
| OCEAN RESORTS | 400 | CO-OPERATIVE |
| OCEANIQUE | 23 | CONDO |
| PARAGON | 23 | CONDO |
| QUEENS COVE | 233 | HOA |
| SANDS-LAKESHORE | | |
| SANDS-LAKEVIEW SECTION ONE | | |
| SANDS-LAKEVIEW SECTION TWO | | |
| SANDS-RIVERPOINTE | | |
| SANDS-RIVERSIDE | 24 | CONDO |
| SANDS-RIVERWALK | | |
| SANDS ON THE OCEAN | 82 | CONDO |
| SEA PALMS (ORIGINALLY COSTA DEL SOL) | 116 | CONDO |
| SEABREEZE AT ATLANTIC VIEW | 90 | CONDO |
| SEAWARD AT ATLANTIC VIEW | 106 | CONDO |
| TIARA TOWERS NORTH | 72 | CONDO |
| TIERA TOWERS SOUTH | 72 | CONDO |
| TREASURE COVE DUNES | 36 | CONDO |
| VISIONS | 25 | CONDO |
| WATERS EDGE | 4 | HOA |
| | | |
| | | |
| | | |
| | | |
| | | |
| | | |
| | | |
| | | |