TWIN HURRICANES HIT OCEAN RESORTS -- 2004 FIRST FRANCES THEN JEANNE
By John Leaman,
Edited By Carolyn Leaman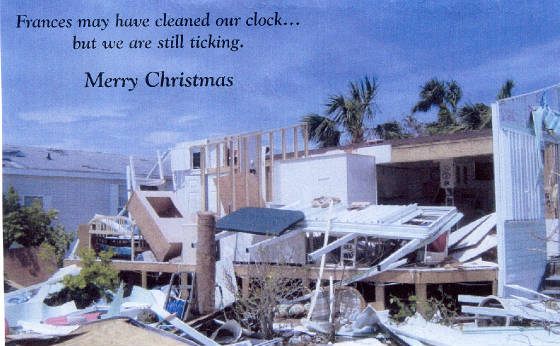 The clean up was long and arduous. Blue tarps were on many of the roofs that could be seen from the highway. We looked like a city of blue roofs. Many organizations provided support. The Red Cross, churches, Salvation Army, FEMA and many others stand out the most. We were determined and did not let this disaster stop our spirit or determination to be one of the most beautiful places on the Treasure Coast. This attitude is exemplified by a Christmas Card send by Ed & Phyllis Graham. (Photo to right)
At Ocean Resorts, management and residents had done a fine job of removing all loose objects that could be picked up by the wind and re-deposited elsewhere. They had also boarded up windows and doors for common area buildings. These preparations prevented much damage, but as was later revealed, the additions to mobile homes could not withstand the assault.
Tom McMaster was the first person back into Ocean Resorts. He was able to do some damage assessment and take some photos. He relayed this information to the Board President, who was in North Carolina at the time. In turn the President set up Email groups and relayed information to unit owners as best he could. He was able to make timely phone contact to deliver the bad news to the five owners whose units burned down.
Once the Manager was permitted back into the park he was joined by Maintenance personnel, Board members, and a few residents. An operations center was immediately set up in the Rec Hall which had little damage except for some roof shingles. There was phone service here. It was manned continuously by resident, Bob Steib, to try to answer the many questions arising from owners. The first priority went to safety and security. The "in gate" was totally blocked with debris and a nearby resident kept an eye on the "out gate" which could be used for entrance. All roads were full of debris, including nails and screws. Shovels were used to clear reasonable paths through the mess. Even then flat tires were commonplace. Although there was no electricity or water at the time, their delivery capability to each unit had to be terminated until there was assurance of no short circuits or water leaks when service would be restored. Generators were used in a few critical spots, but this was very limited. Outside support with motorized equipment was hired to remove the worst of the debris. The rubbish was essentially cleaned up before the second hurricane hit. It was most fortunate that this had been done or the damage from the second hurricane would have been much worse. The people at Ocean Resorts were without relief help for the first 4 days because some delivery person had erroneously reported back to the Red Cross/FEMA distribution point that the island was closed. When this obstacle was overcome Ocean Resorts was showered with more drinking water, ice, and food than anyone could use.
During the first hurricane, no mobile homes were destroyed. All destruction was to porches, room additions, and roof shingles. Unfortunately many were opened up to the elements so that when the second hurricane hit, those that had been opened up were then destroyed along with their contents. This was most unfortunate because much effort had been expended after the first hurricane to move people's belongings away from the damaged areas back into the remaining solid structures. Units close to Ocean Harbor North were pelted with pebbles from the condominium roofs and received some glass and siding damage. Also, debris from their destroyed garage which had been just north of O.R. tennis courts caused considerable court damage to the court surface, fencing, lighting and pavilion. Condominium management was subsequently notified that the initial occurrence could be deemed an act of God, but failure to correct the causative weakness couldn't be. Most people along the Indian River Lagoon received considerable dock damage and had water under their houses because the lagoon rose more than three feet. Fortunately the ocean surges from both hurricanes hit during low tides or matters could have been much worse. There were water trickles across A1A in several places but no major surges.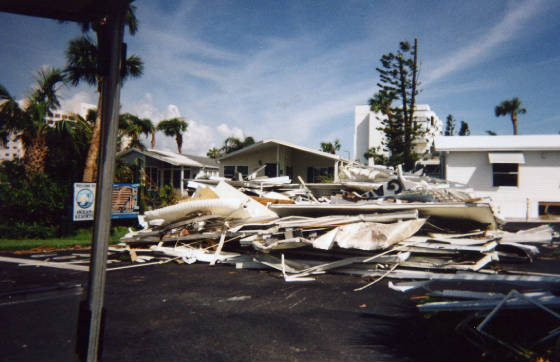 All told about 7,000 cubic yards of debris were hauled out of O.R., not counting that resulting from destroyed residual units being removed by the owners. Handling this was a real issue. FEMA immediately provided money to the County to handle debris removal, but the county's first position was that they would provide no support to gated communities. This was subsequently changed to if it was put outside the gates along a roadway they would haul it away. Communications with our Congressmen helped convince county officials to be fair with their policies. In our case we already had the debris removed and it would have made little sense to pick it up in mass only to dump it along A1A. At least there were no dumping charges for our debris and the county policies may be fair should there be another such situation.
O.R.'s common area facilities, except for the boardwalk held up rather well. The roofs of the comfort stations, post office, Rec Hall and pavilion all received roof damage that could be repaired without total roof replacement. The main office building and tennis pavilion needed new roofs. Also the main office building had internal water damage and some mold issues that required considerable remedial action. All bulletin boards and chain link fences had considerable damage and the east end of the board walk was decimated. There were also downed and severely damaged trees. Fortunately, since most repair work, except the main office building, was done by the maintenance staff and volunteers, insurance proceeds more than covered the out of pocket repair costs. Debris removal and lift station pumping expenses were not insured or insurable.
Charlie House, our group email webmaster, entered the park and took hundreds of photos of homes at O.R. and posted them on line so residents could see for themselves the damage to their park and homes. Another selfless act greatly appreciated by home owners at Ocean Resorts.
Many lessons were learned during the hurricanes and remedial actions taken. Backup power is now immediately available to sustain the main offices, the Rec Hall, and lift stations. Hurricane preparations check lists are in place for each function. There was also liaison with the county so that they now have back up power provisions for their lift station that serves O.R. It is hoped that these provisions never need to be used for the real thing.